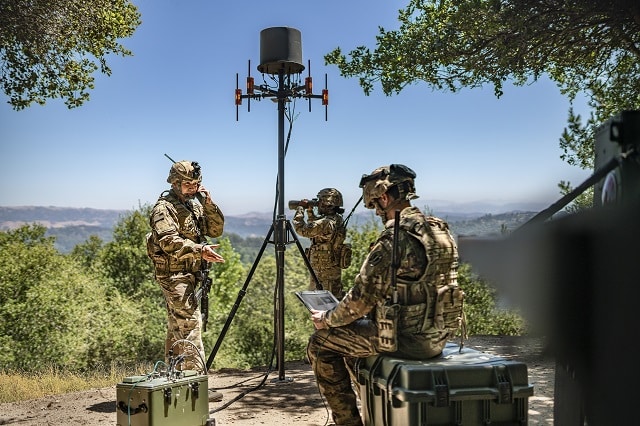 From the use of purpose built and commercial drones in the Russian invasion of Ukraine, to the delivery of contraband and weapons to prisons, to the inappropriate use of drones in public spaces, Unmanned Aircraft System (UAS) threats are rising significantly, and will continue to do so in the coming years. Successfully defeating any threat posed by errant, illegal or malicious drone use is becoming ever more critical for an increasingly wide range of domestic and international military and security forces.
Radio Frequency (RF) inhibition technology is an ideal technique to mitigate UAS threats in complex environments. However, the challenges presented by new highly complex UAS waveforms, paired with the limitations of older DDS-based jamming solutions, have caused the most effective Counter-UAS RF inhibition systems to undergo a significant technology change. For instance, a change that has materialised in the adoption of techniques used in Software-Defined Radios (SDR).
Forward-thinking RF inhibition waveform designers, understanding the potentially advantageous nature of SDR source waveform generation, had already developed and proven as a next generation countermeasure waveform, but they weren't implemented until the complex waveforms of the UAS domain appeared. Hence the deployment of SDR-based RF inhibition source waveform generation was triggered by the appearance of the new sophisticated waveform drone threat.
In this context, SDR-derived RF inhibition waveforms can be architected to counter a much wider range of threats which, when grouped together, don't see their individual frequency effectiveness compromised as there is no interdependency between them. Most critical for defeating sophisticated drones, the countermeasure waveform is always present across the denied spectrum given that SDR techniques, designed appropriately, generate high instantaneous bandwidths.
The BLACKTALON solution, jointly developed by SPX CommTech's TCI and ECS, has provided an effective way to integrate passive and active RF detect to locate, identify, track and defeat drones, allowing for flexibility in deployment in an ever changing and evolving threat environment. Proven in active conflict, its SDR source generation delivers an inhibition waveform best suited for Counter-UAS. High gain, directional antennas transmit the inhibition waveforms ensuring that the antennas illuminate the target. Furthermore, the antennas have a nominal 20° beamwidth providing the power density required at the target UAS, which allows for mitigation of collateral impact upon other systems and is, without a doubt, a key factor for using RF.
As solutions manufacturers, at SPX CommTech, our primary goal is focused on innovation and progress, but more broadly, we must continue to deliver technology that ensures a smarter, more secure future for us all.
Visit us this week during Security & Policing 2023, stand D61, to find out more about BLACKTALON, Radio Frequency Counter-UAS, COMINT, and Data Link solutions for defence and security teams.