Traditionally, spectrum management has largely focused on static allocation; coexistence arrangements enforced through fixed geographic and spectral boundaries.
Consequently, spectrum measurements are typically short-term ad hoc efforts to collect snapshots of incumbent spectrum usage in particular frequency bands.
Spectrum crunch brought on by new radio access technologies (wider instantaneous bandwidth, network densification, small cells, massive MIMO, low power transmitters) and use cases (wider coverage, mobility, hotspots, QoE, QoS) demand a dynamic approach to spectrum management.
TCI Spectrum Surveyor® leverages developments in distributed sensor technology (e.g. TCI 709/739) and advances in computing speeds, data storage capabilities, information management systems (e.g. Big Data) and service-oriented architecture to confront the spectrum management and scarcity challenge.
KEY FEATURES
Data Driven Intelligence for Spectrum
Management & Enforcement
Networked or Stand-Alone Operation (for sensor nodes with limited connectivity)
Task and Control network of monitoring sensors simultaneously (using groups) or individually
Centralized Tasking and Measurement
Results Database (TMRDB) facilitates Data Fusion and Analysis
Built-In 3D Data Visualizations: Spectrum Occupancy, Field Strength, Coverage Maps and much more
Automate routine spectrum monitoring tasks using Measurement Task Plans (MTP)
Support for Data Analysis Tools: Power BI, Tableau, Qlik…etc.
Compatible with TCI Spectrum Monitoring Systems
Smart Spectrum Assistant for Spectrum Analysis & Management
TCI Spectrum Surveyor®'s centralized data warehouse with built in analytics, visualizations and reporting enables users in assessing the available spectrum to answer the following questions:
1. Identify White Spaces by Frequency Band and/or Geographic Region.
2. Identify changes in the optimal use or uses of bands over Time.
3. Identify and Classify users- Licensed, Unlicensed, Primary vs. Secondary across frequency bands.
4. Identify frequency band that can be allocated to a secondary user.
5. Quantify differences in band occupancy at National, Regional, Local and Block level.
Monitoring with MTP
Fine-grained spectrum occupancy measurements require periodic and repetitive measurements carried out at different times in both space and frequency dimension. Each frequency band has different characteristics in terms of used bandwidth, channel spacing, channel access method, transmit power etc. that necessitate different measurement parameters for the frequency band of interest. TCI's Measurement Task Plans (MTP) and push button approach enables users to automate measurement campaigns for specific frequency band/s and to schedule measurements at predefined intervals or at specific times. MTPs also enables users to schedule measurement campaigns concurrently on a network of monitoring sensors; each sensor running the same measurement or tasked separately depending on their location or group association.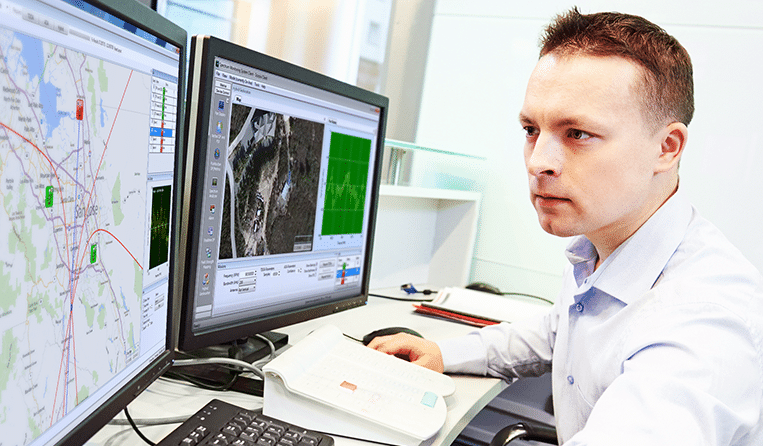 Data Collection, Fusion & Integration:
TCI Spectrum Surveyor® offers a unified database to integrate measurement task plans (MTPs) and accompanying spectrum measurement data from a network of distributed sensors. The ability to handle voluminous data in a centralized database enables data fusion, analysis and sharing across the organization.
Data Analytics & Visualizations:
TCI Spectrum Surveyor® with advanced data analysis enables spectrum regulators and administrators to identify and determine the extent and source of interference. 3D Visualizations allow unprecedented ease of use in fi ne-grained analysis of spectrum utilization by region and spectrum occupancy by frequency band/s. Users can filter spectrum measurement results by frequency, field strength, occupancy, individual stations (or team of stations), task, date/time, time-of-day, or day(s) of the week.
Spectrum Surveyor® Dashboard
Data Visualizations
Spectrum Surveyor® is a Registered United States Patent and Trademark in the USPO.
Custom Visualizations
TCI Spectrum Surveyor®'s powerful data analytics and visualizations enable users to undertake spectrum monitoring-enforcement goals by leveraging data driven intelligence. The goal of attaining higher spectral utilization and associated licensing revenue is easily achievable with TCI Spectrum Surveyor®.
TCI Spectrum Surveyor® Requirements
• Windows Server 2022 Standard Edition Operating system and license
• SQL Server 2019 Enterprise Edition software and license
• TCI Spectrum Surveyor® Database Maintenance software
• TCI Scorpio Client software and license Microsoft® SQL Database Server (On Premise) Hardware Requirements*
• Memory: > 64 GB DDR4
• Processor Speed Minimum: > 2.0 GHz
• Processor: Intel Xeon Silver 4215 2.5G, 8C/16T, 9.6GT/s, 11M Cache, Turbo, HT or higher
• Hard Disk Drive: 2TB or higher
• Storage: 20 TB HDD (typical)
• Power Supply: Dual Redundant Power Supply
• I/O Ports: 4 x 1Gbe Ports, 6 x USB 3.0, 1 x VGA, 1 x Serial Port
• Drives: 1 x CD-DVD-RW (double layer) Note: System Requirements are subject to change based on the intended use case and data volume.
Spectrum Surveyor®: Data Integration, Analysis & Visualization for Actionable Intelligence